Buffalo
The City of Buffalo, Wyoming lies at the foot of the beautiful Big Horn Mountains. There are many shops on Main Street, including an old fashioned "soda fountain" where you can still get a homemade soda. You can also see the Occidental Hotel, made famous by Owen Wister in the novel "The Virginian." The Occidental, the Johnson County Court House, and the Carnegie Wing of the Jim Gatchell Museum of the West are all listed in the National Register of Historic Buildings .. as are many other buildings along Buffalo's Historic Main Street District. Many events are held in Buffalo's downtown area including parades, cookouts, western re-enactments and sidewalk sales for the shoppers.

Clear Creek Trail
The Clear Creek Trail System runs from east Buffalo, through the city and west into the Big Horn Mountains. The trail is approximately 11 miles long and follows Clear Creek. It is easily accessible from many areas in Buffalo.

Cloud Peak Scenic Skyway
Highway 16 runs between the Black Hills and Yellowstone National Park, leading visitors through 60 miles of spectacular mountainous scenery. Travelers climb over 5,000 feet to an elevation of 9,666 feet at Powder River Pass, and then descending into Ten Sleep Canyon.

Historic Sites
Buffalo, Wyoming is located along the historic Bozeman Trail. There are many historic sites in the area including Fort Phil Kearny, Fetterman Battlefield, and the Wagon Box Fight. There are also many historic buildings located in Buffalo including the "Occidental Hotel".

Rodeo
The Johnson County Fairgrounds hosts numerous events throughout the summer including the Powder River Roundup and the Johnson County Fair and Rodeo. Weekly rodeos are also held there. Kaycee, Wyoming hosts the Deke Latham Memorial PRCA Rodeo the first weekend after Labor Day each year.

Buffalo Golf Course
In 1994, Golf Digest selected the Buffalo Golf Course as one of the best golf courses in Wyoming. Enjoy a challenging 18-hole, par 72 play, combined with spectacular mountain vistas. Greens fees are reasonable and rentals are available.

FREE Swimming Pool
Buffalo has the largest outdoor FREE swimming pool in the state of Wyoming. Enjoy a cool dip and have a snack at the snack shack.

YMCA
Buffalo is the smallest town in the United States to have a YMCA. YMCA facilities include a indoor swimming pool, workout and weightlifting room, gymnasium, racquetball courts and outdoor tennis courts. There is also a running track across the street from the YMCA.

Horseback Riding
If you wish to explore on horseback, holding corrals and ramps are available in such areas such as the Circle Park and Hunter Corrals trailheads in the Bighorn National Forest. Several area outfitters and mountain lodges provide horses for hourly, day, or overnight trips.

Lake DeSmet
Lake DeSmet is located about 5 miles north of Buffalo along Interstate 90. It is noted for fishing, boating and swimming. Lake facilities include ramps, docks, campgrounds, and picnic shelters.

Big Horn Mountains and
Bighorn National Forest
The magnificent Big Horn Mountains and massive Bighorn National Forest are just minutes west of Buffalo. They provide many recreational opportunities including fishing, hunting, camping, hiking, backpacking, skiing, snowboarding, snowmobiling and sightseeing.

Fishing
Fishing is very popular here. Fishing areas include the Middle Fork of the Powder River near Kaycee, reservoirs, and alpine strams and lakes in the Bighorn National Forest and the Cloud Peak Wilderness Area. You can also fish in Clear Creek, which flows right through Buffalo. Guided fishing trips are also available with local outfitters. Anglers enjoy ice fishing at Lake DeSmet and Healy Reservoir during the winter months. Fish found in the area include grayling, and rainbow, brook, brown, cutthroat, and lake trout.

Hunting
Johnson County offers marvelous hunting opportunities for antelope, deer, moose, elk, and upland game birds. Outfitters in the area offer guided hunts. Or you can choose to go it on your own. Make sure you get permission to hunt on private land. Hunter information is available at the Buffalo Chamber of Commerce.

Scenery & Photography
Johnson County is an especially beautiful place when the wildflowers bloom in spring and during the autumn foliage season. There are many loop tour areas available and sightseeing opportunities are endless. Wildlife including Pronghorn Antelope, Whitetail Deer, Mule Deer, Moose, and Elk are plentiful in the region.

Skiing, Snowboarding, Snowshoeing, Snowmobiling
Cross Country Skiing - There are many miles of groomed trails in the Big Horn Mountains. Willow Park and Pole Creek are two of the most popular cross country skiing areas.

Downhill Skiing- Big Horn Mountain Resort, about 45 miles west of Buffalo, offers excellent downhill skiing and snowboarding opportunities.

Snowmobiling - Over 130 miles of groomed trails make the Big Horn Mountains a popular paradise for snowmobilers. Trail maps can be obtained from the Buffalo Chamber of Commerce or local sporting goods stores.

Buffalo, WY & Big Horn Mountains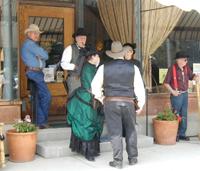 Historic Re-enactments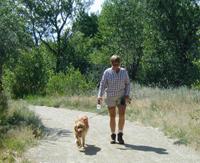 Clear Creek Trail System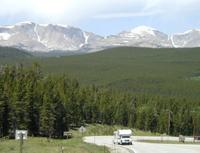 Cloud Peak Scenic Skyway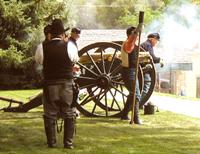 Historic Events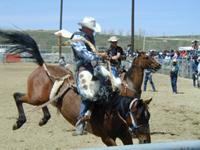 Rodeos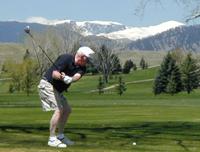 4-Star Buffalo Golf Course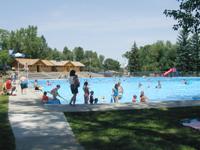 FREE Outdoor Swimming Pool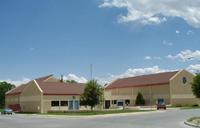 Johnson County YMCA

Mountain Horseback Riding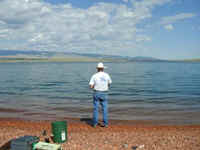 Lake DeSmet